Midagahara Highlands Trekking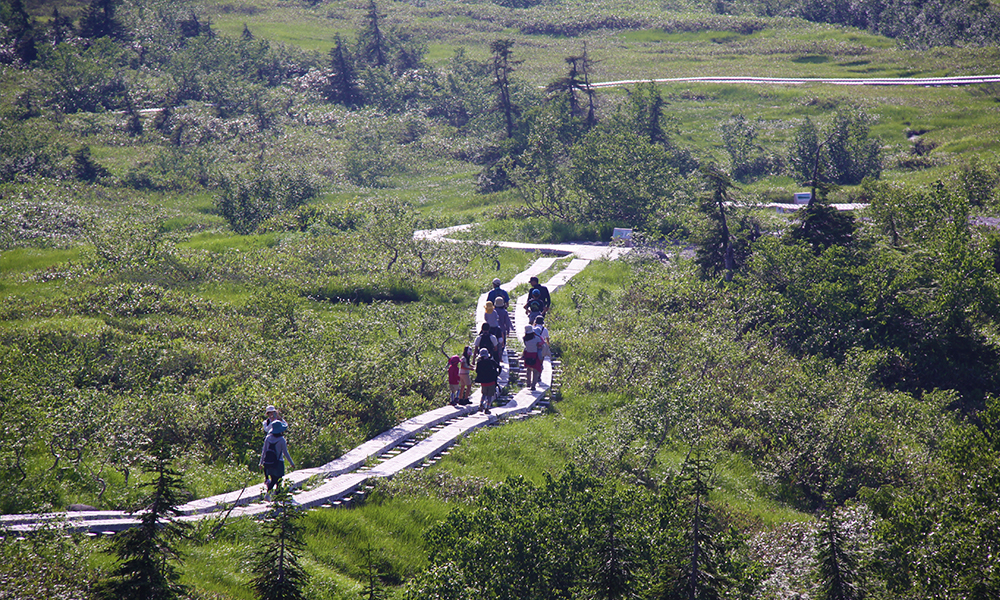 Hotel staff will guide guests through the "Midagahara Promenade Course" or the "Tateyama Caldera Observatory Course" while providing commentary on the surrounding mountains, alpine plants, and other features of the environment.
The Changing Seasons
The alpine plants are a treause of the Midagahara Wetlands. Their colors change with the changing of the seasons, bringing joy and delight to travelers.
From the new green of spring to the reds and oranges of autumn, take a walk and enjoy this beautiful world.
Spring (April - June)
Spring in Midagahara is full of beautiful, snowy landscapes. Snow builds to heights of 5 m to 7 m in Midagahara.
Search for the tracks of rabbits in the snow and walk next to the tops of high trees. This is a trekking experience you cannot have at any other time of year.
Summer (July - August)
As the snow melts, the world is suddenly covered with a carpet of new green. It is as if nature suddenly regained its grip on life. The mountains and sky are bright, and simply breathing in the clean, clear mountain air is a joy in itself.
At your feet as you walk, you can see avens, Hemerocallis esculenta and other lovely alpine plants waving in the air.
Fall (September - October)
Autumn is the season where the Japanese rowans and maples take on color and the grasses and trees of the mountain faces are dyed into a fiery orange.
The peaceful wetlands ponds are like clear mirrors that reflect the beauty of the mountains. In the distance, you can see a majestic sea of cloud. As autumn deepens, the contrast of snow and autumn leaves is another new and beautiful sight.
Winter (November)
Winter comes quickly to the mountains. By November, snow already begins to cover the wetlands.
On clear days, the blue skies reflect on the white snow, and the air glitters.
The winter mountains, both beautiful and unsparing, await you.