Cuisine
Surrounded by expansive nature, the bounty of the seas and the mountains tastes even better.
Our hotel chefs bring their ideas into physical form, creating wonderful delicacies for dinner offerings and our breakfast buffet.
We hope you enjoy a memorable moment at our mountain restaurants.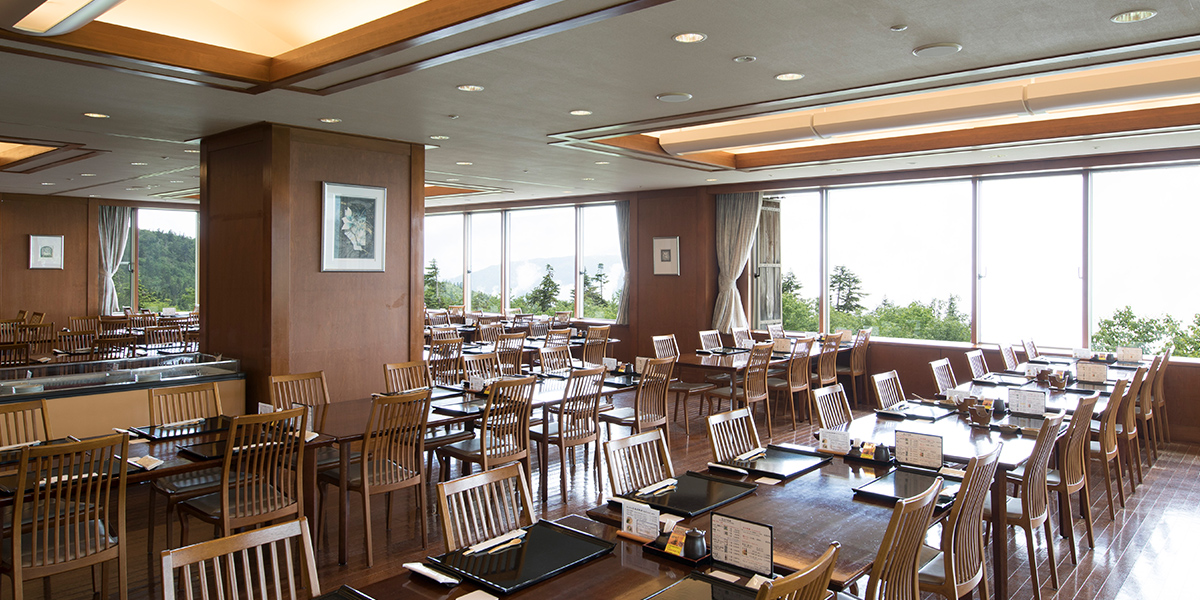 Restaurants on the Clouds
Our restaurants offer a windowed view of the sea of clouds, the sunset, and the vividly colored highlands.
This is only possible because of the high altitude of our location, which rises 1,930 m above sea level.
When the sea of clouds appears, it feels like you are dining while sitting on the clouds.
Seasonal Japanese Kaiseki Cuisine
At Restaurant Dainichi, you can enjoy kaiseki cuisine that is packed full of Toyama's best ingredients for each season.
Fresh Ingredients from Toyama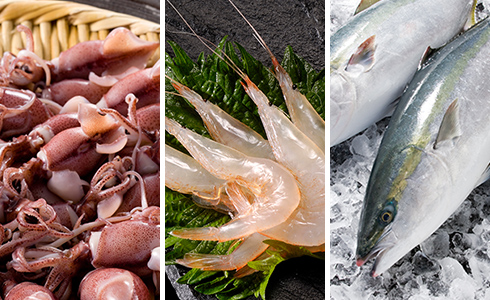 Seafood
The main feature of our cuisine is none other than the bountiful harvest from the Sea of Japan.
The year-round catch from the Toyama Bay is so plentiful that it has earned the nickname of "natural fish preserve".
Enjoy this delicious variety of ocean life, which includes firefly squid, white shrimp, yellowtail, and snow crab.
Mountain Vegetables
The bounty of Tateyama's mountains grows strong and delicious due to fresh water that comes from melting snow.
We prepare nutritious and delicious dishes with ingredients picked from spring to autumn such as wild vegetables, spring bamboo shoots, mushrooms and locally-grown vegetables.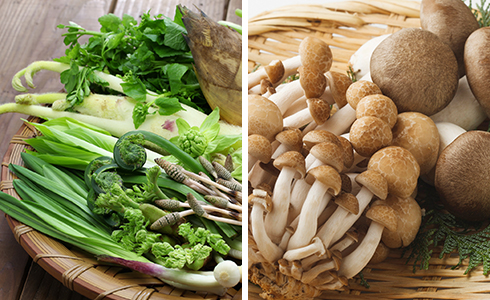 The Chef's Commitment
Our dishes take local ingredients from Toyama Prefecture and seafood from Toyama Bay. We then add heartfelt seasonings to produce delicious dishes for you.
Our food always uses seasonal ingredients, and I hope that it creates a wonderful memory for your journey.
Enjoy your meal.
Head Chef, Midagahara Hotel
Dining for Non-Overnight Guests
Japanese Restaurant Dainichi is open for lunch. Our lunch menu uses local ingredients and includes offerings such as lunch set meals with fluffy white shrimp and curry made with fried cutlets of Toyama pork.
Check out our Sea of Clouds Bowl, which uses grated yam over rice create the appearance of a sea of cloud. It is topped with white shrimp and firefly squid.