Starry Skiesstarry sky
At Midagahara, the night sky is always full of stars.
Gaze up through the silence and enjoy a romantic moment with a sky full of glittering jewels.
Watch the Milky Way and passing shooting stars with photos and videos.
Star Watching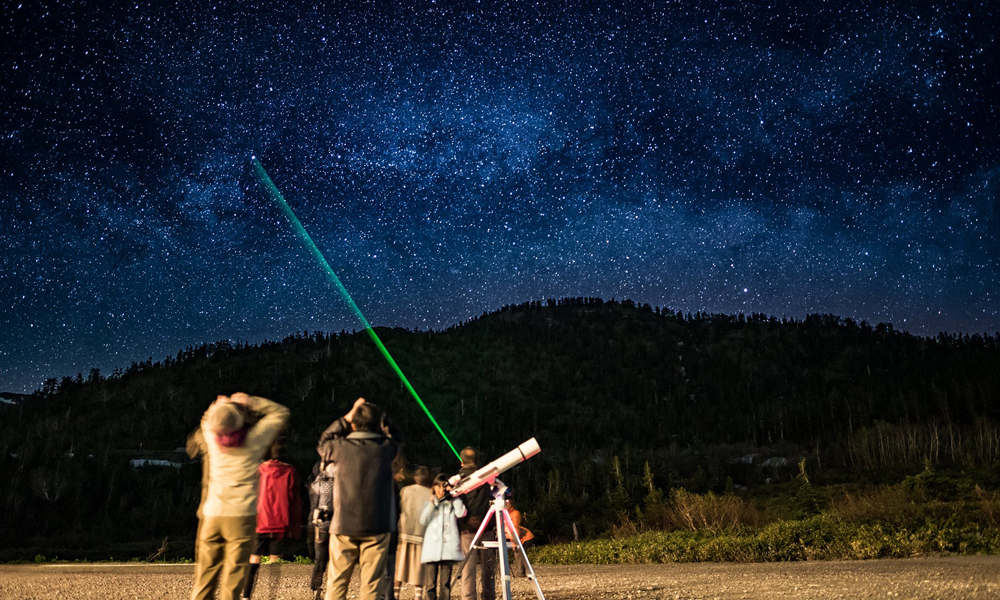 In stargazing, a special lecturer from the Toyama Prefecture Astronomical Society will lead us in the observation of the starry night sky using an astronomical telescope. This will be accompanied by a lecture on how to observe the stars, interlaced with various stories concerning the starry sky in different seasons. Even those who have never gone stargazing before can enjoy it. Let's enjoy a special night in the "A highlands resort in the clouds," together with the Milky Way and a shooting star.
Stargazing tips
Check a lunar calendar
The darker the night sky is, the easier it is to see the tiny light of the stars.This is why you should reserve your stargazing for nights when the moon is dark.If stargazing is the main goal of your trip, then we recommend that you visit on a day during the New Moon.
Adjusting your eyes to the darkness
If you go from the bright interior of the hotel out onto the roof, you will not be able to see as many stars as you might have expected. The light from the stars is very pale, so if you want to truly enjoy the night sky, you will have to first let your eyes get used to total darkness. Please persevere for at least ten minutes, and then look up at the sky.
Dress warmly and take measures against the darkness
Even if you are really looking forward to going stargazing, you will not be able to enjoy the stars if you are not prepared for the cold. So let's get ready for the freezing temperatures, with particular focus on the hands, the neck, the ears, and the head. And since good observation of the starry sky requires complete darkness, it would be a good idea to bring a headlamp as well.
Look forward to nights after the rain
The weather on the mountain changes very quickly, meaning that even if the night sky is clear, it may become cloudy by the time you reach your destination. If the sky is clear, then do not hesitate to head outside and stargaze while the weather permits.