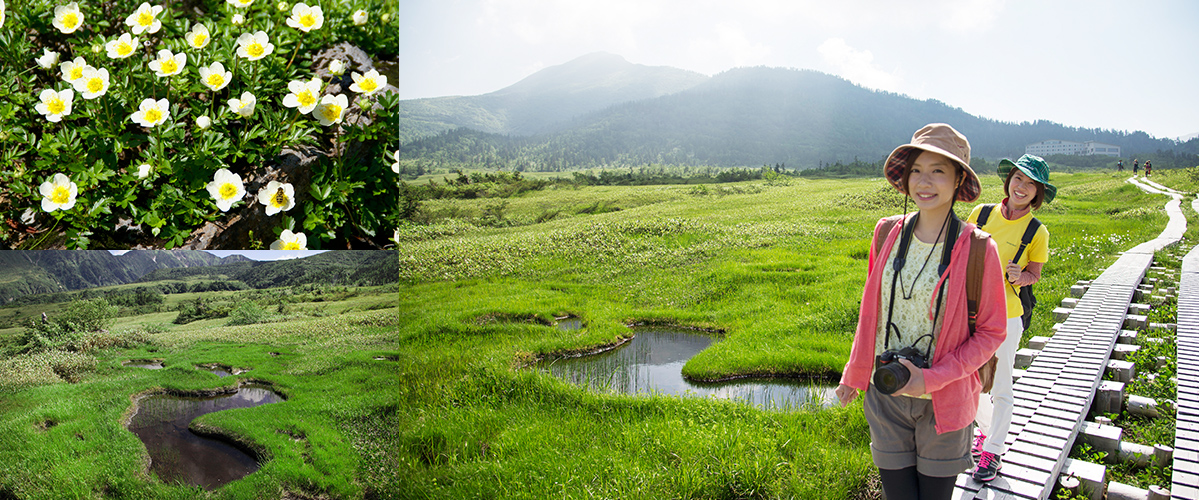 01
The Inner Course: Perfect for Beginners
This inner walking course overlooks the vast wetlands and the Dainichi Mountains to the north. The course starts and ends at the Midaghara Hotel and only takes around 40 minutes, so we recommend it for beginners. As you follow the boardwalk that runs over the wetlands, the view before you gradually expands. Eventually, you will arrive at the Gaki-no-ta Plaza. Here, you can see the wetlands, which are dotted with small ponds called "gaki-no-ta". Off to the right, onlookers can see Mt. Dainichi, which rises 2,501 m above sea level. In early Summer, alpine plans like avens and daylilies can be seen, and sometimes you will even see interesting mountain butterflies and dragonflies.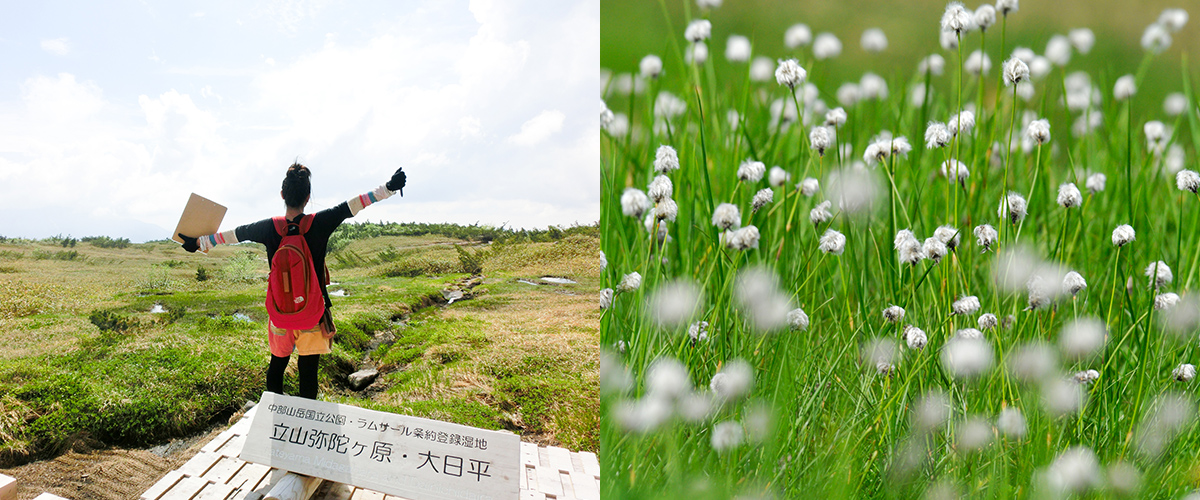 02
The Outer Course: Filled with Beautiful Alpine Plants
The outer course, which runs out further than the outer course, extends straight from the Gaki-no-ta Plaza, passing through the Ichinodani Fork and The Forked Path before returning to the Midagahara Hotel. In summer, you can see bunches of hare's tail cottongrass (also known as "white fairies") near the Ichinodani Fork. Off to your right is the majestic sight of Mt. Dainichi. In autumn, the grass takes on autumn colors and adds vivid colors to your wetlands walk. The course takes about 80 minutes. Please consider your physical stamina before taking on the challenge.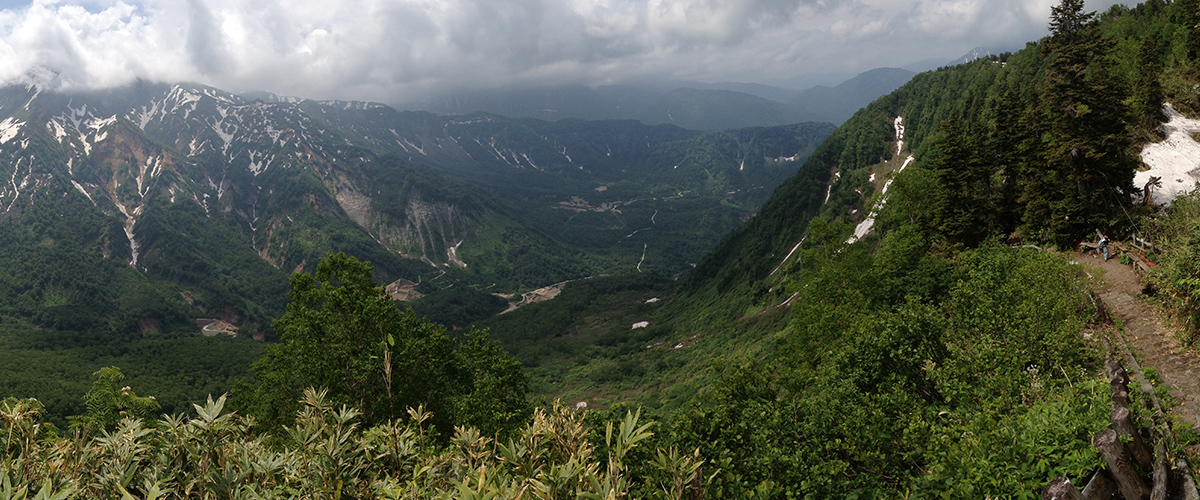 03
Caldera Observatory Course: See the Many Faces of Tateyama
This course begins and ends at the Midagahara Hotel and visits the Caldera Observation Deck. After passing through the forest belt walking path, the view expands, and walkers can see the Tateyama Caldera This caldera was created after the volcanic Tateyama Crater collapsed. At the bottom of the caldera, you can see the Karikomiike and the ruins of the Tateyama Hot Springs, which hikers once frequented. You can also see the steam rising from the Shin'yu hot springs. The course takes approximately 40 minutes.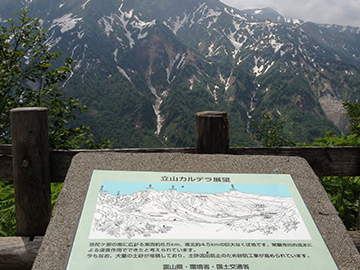 Area Map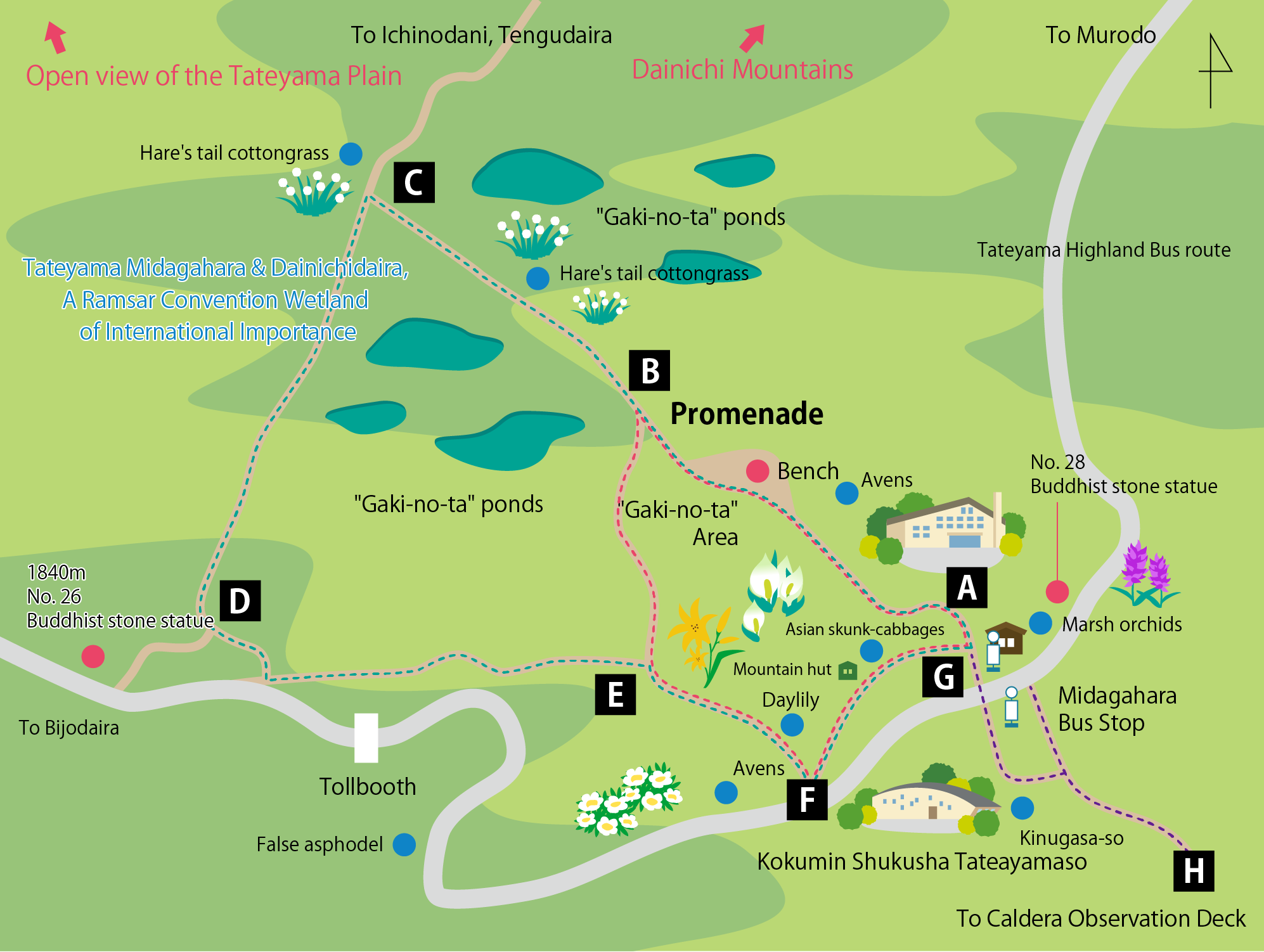 Casual "Inner Course"
40 minutes - 1 hour (round trip)
A
B
E
F
G
A
Fully Enjoy Midagahara with the "Outer Course"
80 minutes - 2 hours (round trip)
A
B
C
D
E
F
G
A
See Another Side of Tateyama: The "Tateyama Caldera Observation Deck Course"
40 minutes (round trip)
A
H
A